Title: Weld switches from Libertarian back to GOP as he mulls 2020 challenge to Trump
Source: Washington Examiner
URL Source: https://www.washingtonexaminer.com/ ... f-2020-mulls-challenging-trump
Published: Feb 7, 2019
Author: Dominick Mastrangelo
Post Date: 2019-02-07 17:03:35 by Hondo68
Keywords: a screw loose, changed his party, Republican nomination 2020
Views: 157
Comments: 2

Former Massachusetts Gov. Bill Weld is mulling running for president and has taken a step toward challenging President Trump for the Republican nomination in 2020, according to a report.
Weld, 73, has changed his party registration in the Bay State from Libertarian back to Republican, according to the Associated Press.
A former Republican governor during the 1990s in the strongly blue state, Weld was running mate to 2016 Libertarian nominee Gary Johnson.
[Also read: Inside the secret Republican plot to take down Trump in 2020]
Johnson and Weld earned less than 1 percent of the vote that year, good for about 4.4 million votes. Some analysts say if the pair had decided against running, Trump's popular vote margin might have been closer. Trump won the Electoral College despite losing the popular vote by about 2.9 million to Democratic nominee Hillary Clinton.
No Republican has announced plans to challenge Trump in 2020, and some states have discussed nixing primaries in order to clear a path for the president to the nomination.
In the run-up to the 2016 election, Weld described Trump as having "a screw loose."
---
Poster Comment:
Ohio Republican ticket 2020?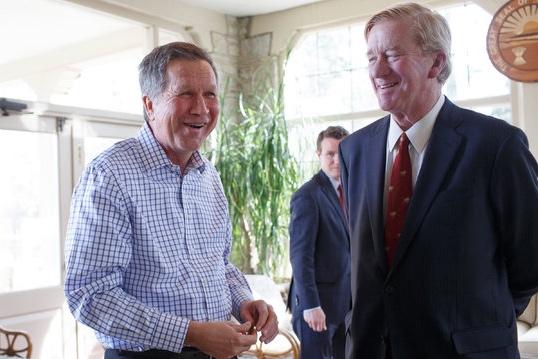 (1 image)