Title: Eyeing 2020, Biden Criticizes Trump E , Biden Criticizes Trump in Europe: 'This Too Shall Pass; We Will Be Back' Europe:
Source: CNS
URL Source: https://www.cnsnews.com/news/articl ... rope-too-shall-pass-we-will-be
Published: Feb 18, 2019
Author: Patrick Goodenough
Post Date: 2019-02-18 08:16:05 by IbJensen
Keywords: None
Views: 48

(CNSNews.com) – Former Vice President Joe Biden made headlines at the weekend for telling an audience in Germany that President Trump's immigration policy was "an embarrassment," but the criticism did not stop there.
Biden, who at 76 is mulling a 2020 presidential campaign – but said he has yet to make a final decision – also took aim at Trump on climate, trade, domestic, and foreign policy.
"I promise you," he assured his European listeners, "as my mother would say, this too shall pass. We will be back. We will be back. Don't have any doubt about that."
Biden contrasted his opinions of Trump policies with what he characterized as the views he has heard as has traveled across America over the past two years.
"The America I see," he said, "does not wish to turn our back on the world or our allies, our closest allies."
"The America I see cherishes a free press, democracy, the rule of law. It stands up to the aggression of dictators and against strong men who rule by coercion and corruption and violence."
Biden said the America he sees "doesn't embrace the self-defeating, tiresome trade wars that are underway" and "doesn't decry the science of a changing climate or deny the truth that's in front of our eyes."
"The America I see values basic human decency, not snatching children from their parents or turning our back on refugees at our border," he said. "Americans know that's not right. The American people understand plainly, because it makes us an embarrassment. The American people know, overwhelmingly that that's not right, that's not who we are."
Biden said he was speaking not as an elected official able to make policy, but "as a citizen."
Earlier, Vice President Mike Pence in a speech at the conference declared that "under President Donald Trump's leadership, America is leading the free world once again," citing policy in the Indo-Pacific – including diplomacy with north Korea and China trade policy – support for European security, and buttressing the democratic aspirations of the people of Venezuela.
Alluding to his successor's comments, Biden said, "I know we heard a lot today about leadership. But in my experience leadership only exists if somebody – and others are with you. Leadership in the absence of people who are with you, is not leadership."
Later, he referred to the need for American "leadership that sees what's coming over the horizon, and takes steps to expand and strengthen our capacity, and to meet any danger."
Asked subsequently by a reporter whether he plans to offer that leadership, and mount a presidential bid in 2020, Biden replied, "No, I haven't reached a decision. I'm in the process of doing that, and I will in the near term let everyone know what that decision is."
Biden said he thought the U.S. tends to begin the election process far too early.
"I think we should be focusing now on what needs to be done to alter some of the policies that are being promoted by the president."
---
Poster Comment:
Egads! Another roving reporter and an alumni of failing and anti-America administrations. Besides he is a child molester with plugged hair.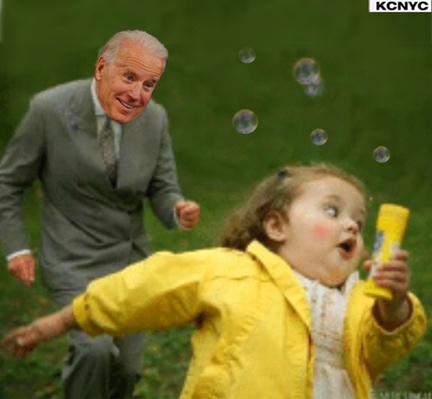 I am sure the German citizens want to talk to Joe about immigration also, but he wouldn't want to hear what they have to say, American political figures that go to foreign nations to bash their own nation should have their passport revoked.
(1 image)