#1. To: A K A Stone (#0)

It was just a matter of time before he committed "suicide" once the names of politicians started coming out of his mouth!

Could this be Clintons number 100th murder?

The only reason I wanted this POS to live is to name names and to suffer a long life.

"Socialism corrupts and Democratic Socialism corrupts Absolutely"!

Justified posted on 2019-08-10 10:23:17 ET Reply Trace Private Reply
---
#3. To: A K A Stone (#0)

Well, well, well...just don't use the word Arkancide. It makes the Dems pout.

I recall one of the witnesses against, a young teen girl he abused, saying he was very athletic but had a "tiny wiener". So a suicide by hanging gets Epstein the headline he always craved: "Epstein was hung".

Supposedly, he had provisions to have his head and micro-penis severed and cryogenically frozen. I'd like to find out if Epstein's corpse got beheaded and emasculated the way he wanted. Just think, hundreds of years from now, Epstein's ugly head and his tiny micro-penis could live again, once again stalk young girls so inexperienced that they think Epstein is built like a man (and not a 8yo boy). It's a beautiful dream, no???

But probably the story will just get very boring at this point. No further salacious details of princes and professors and politicians getting blackmailed over a little Lolitaville adventure on Epstein's Pedophile Island.

Tooconservative posted on 2019-08-10 12:18:54 ET Reply Trace Private Reply
---
#4. To: A K A Stone (#0)

AP:

Barr said in a statement Saturday that Epstein's death in federal custody "raises serious questions that must be answered."

Barr has ordered the inspector general to open an investigation into the death. The FBI is also investigating.

A person familiar with the matter says Barr was "livid" that Epstein was able to take his own life.

Seems consistent with Barr's career. He doesn't like the criminal to escape conviction and punishment by taking the quick way out via suicide.

Tooconservative posted on 2019-08-10 13:22:33 ET Reply Trace Private Reply
---
#5. To: A K A Stone (#0) (Edited)

"Surpraise, Surpraise, Surpraise" -Gomer Pyle

The Clinton Crime Family must qualify for volume discounts on Arkancides by now.
Lord, is it too much to ask that he had a dead-mans-switch arrangement to blow up some criminals, for a change?

Hank Rearden posted on 2019-08-10 14:01:55 ET Reply Trace Private Reply
---
#6. To: Hank Rearden (#5)
Lord, is it too much to ask that he had a dead-mans-switch arrangement to blow up some criminals, for a change?
You already know the answer to your question.
BREAKING: Jeffrey Epstein was in his own cell at the time of his death, and was not on suicide watch, multiple people familiar with the investigation tell @NBCNews. http://nbcnews.to/2KFA2z3

NBC Posted at 11:45 am on August 10, 2019
Well, it had been something like 2 weeks since he last tried to kill himself so keeping him on suicide watch was totally unnecessary. Apparently.
I can see why Barr is pissed.
Tooconservative posted on 2019-08-10 14:12:19 ET Reply Trace Private Reply
---
#8. To: Hank Rearden, A K A Stone, Tooconservative (#5) (Edited)
The Clinton Crime Family must qualify for volume discounts on Arkancides by now.
SUICIDED!? How does the most famous and closely watched jail inmate in U.S. history kill himself?
Government is in the last resort the employment of armed men, of policemen, gendarmes, soldiers, prison guards, and hangmen.
The essential feature of government is the enforcement of its decrees by beating, killing, and imprisoning.
Those who are asking for more government interference are asking ultimately for more compulsion and less freedom.
Deckard posted on 2019-08-10 16:49:12 ET Reply Trace Private Reply
---
#9. To: Deckard, Justified, Hank Rearden, A K A Stone (#8)

I saw someone defaced Wikipedia's page for Suicide Watch: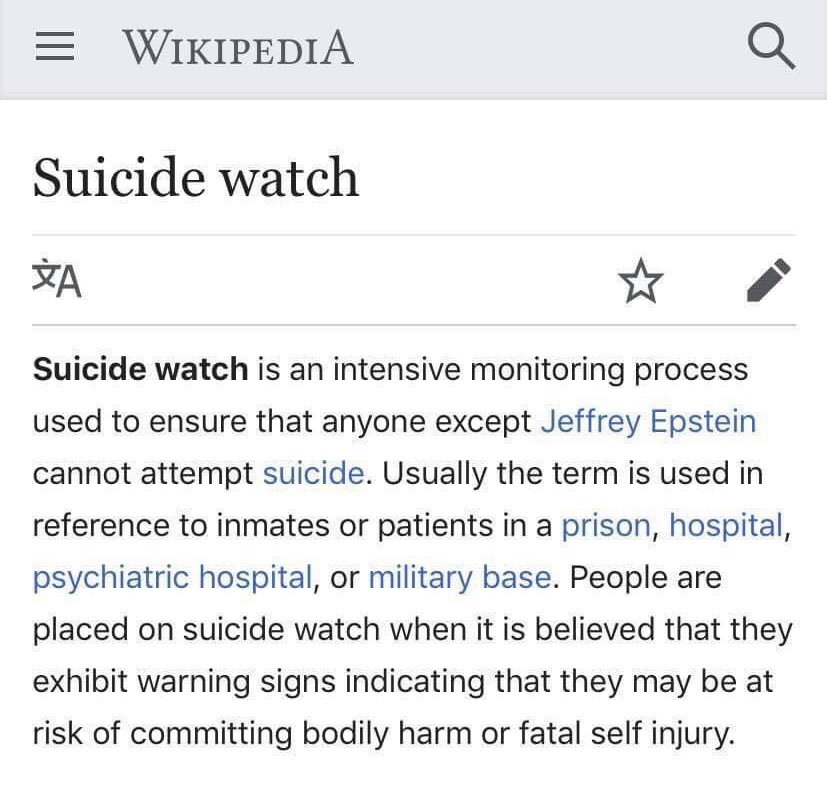 The Wikifolk corrected it and locked the page to prevent further mischief.
And I noticed some other fun memes.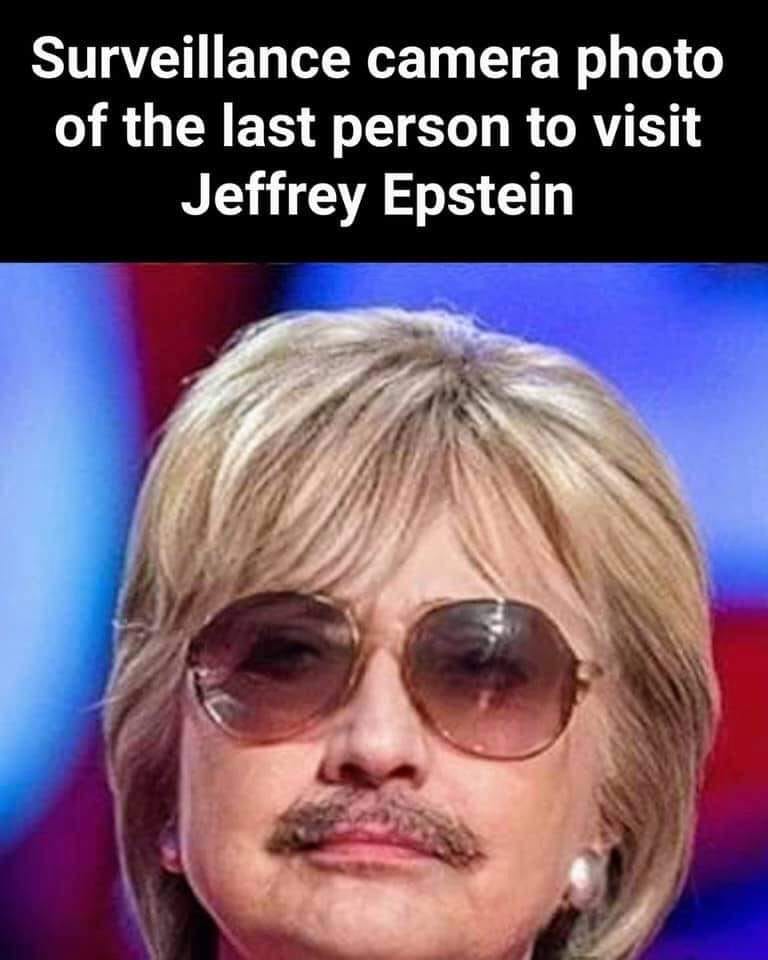 It seems someone may have identified the leading suspects:
Tooconservative posted on 2019-08-11 6:09:42 ET (8 images) Reply Trace Private Reply
---
#12. To: Tooconservative (#10)
I was stunned by Epstein's suicide, though probably not as much as Epstein himself.— John McAfee
That is really funny in a sad way.
Anywhere the Clintons reside they bring death, perversion and corruption!
"Socialism corrupts and Democratic Socialism corrupts Absolutely"!
Justified posted on 2019-08-16 10:54:35 ET Reply Trace Private Reply
---